Resources : FAQ's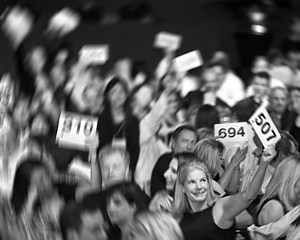 1. How do I register for one of your auctions?
You can register in person online up to 24 hours before the start of an auction, or onsite on the inspection day from 8AM to 4PM or on sale day starting two hours before the start of the sale, as well as anytime throughout the auction. Our registration is inside our office.

2. Do I have to be a dealer to attend your sales?
No. Anyone may bid and buy! Our auctions are open to the public as well as to dealers.

3. Can I register and bid over the internet?
We offer internet bidding through our website and a third party company. You can go to our website and click on the bid online button to register. If you choose not to attend the live auction, you can bid online . All applicable fees/procedures will apply just as if you were at the live auction.

4. Does it cost anything to register?
There is no fee to register for our auctions; and our auctions are open to the public.

5. Is there a buyer's fee?
MEGA Auctions charges a buyer's fee for all purchases made at our auction. See the auction listing for the fee amount.

6. Do you charge sales tax?
Yes, in most states we are required by law to collect sales tax.

7. If I am tax exempt do I need to bring proof?
Yes, if you are tax exempt you will need to bring your state issued tax certificate. In most cases we do have tax forms on-site, if you forget to bring one. Buyer's pertinent tax documents are required to complete tax exempt forms.

8. When is payment due?
Complete payment from buyer is due on sale day.

9. What forms of payment do you accept?
We accept cash, certified funds such as money orders, traveler's checks, cashier's checks or company check with a letter of guarantee from the bank.

10. What does my letter of guarantee or honor have to state?
Your letter must be current and printed on your financial institute's letter head—it must state they are going to guarantee or honor the check written to MEGA Event Production up to the amount that you and the bank agree on. It also must be signed by an executive of your financial institute along with their phone number in case of need to contact.

11. How long do I have to pick up my purchase?
Items purchased at our sale are required to be removed in the allotted time posted on-site as well as online. Normally we have removal on the next business day following the auction.

12. Who do I call if I cannot get my items out in the allotted time?
You must contact the sale site where you purchased as soon as you know you cannot meet our pick-up deadline. In most cases you will not be able to leave items at the site. Items will be hauled and stored at a location where the cost will be incurred by the buyer.

13. If I send someone else to remove my items, what do they have to bring?
Whoever you choose to remove your items must have identification as well as a copy of your paid-in-full invoice. No items will be removed without this information.

14. How do I get notified about future auction sales?
Join our eMail List on our website and you will receive notices of upcoming auctions.